Our Speak Previews today sadly announces the sudden passing of our Founder and Chairman, Peter Giuliano, on September 30, 2017. Our ECG family is devastated, and we send our condolences to his daughter, Michelle, and his sons, Philip and Michael, as well as to his beloved grandchildren.
Whether you knew Peter or not, you have worked with someone from the ECG team and have Peter to thank for that. His goal was to create a company that did good work for its clients and its people. Over the last 35 years, he unfailingly met these goals.
In fact, when we moved to our new offices last year, we dedicated a plaque to Peter with the following inscription: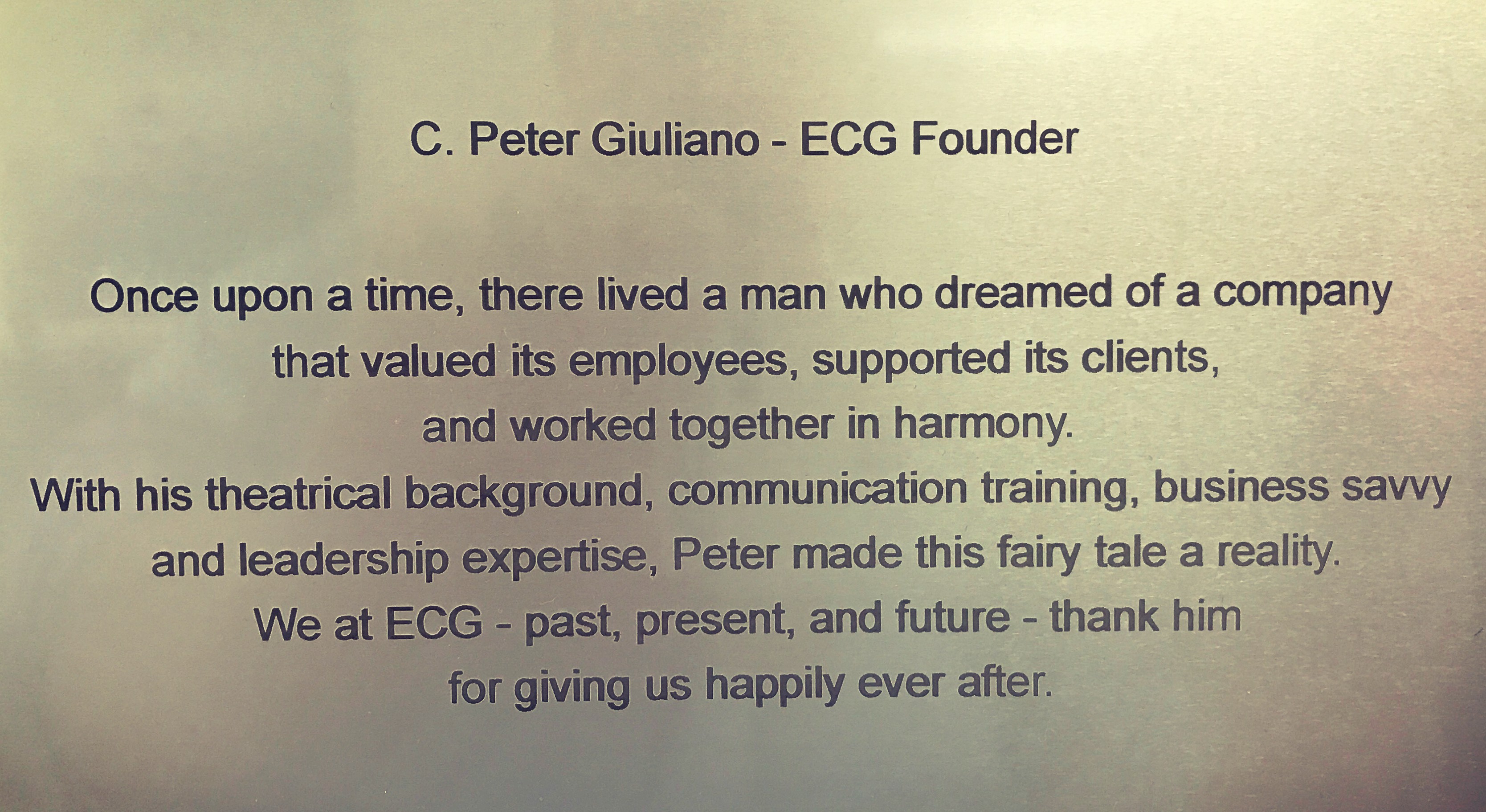 Peter always believed in the power we each have to make a difference. In his youth, he protested for civil rights. As a student, he convinced his university to develop a theatre program to enrich his academic community. He did not let a daunting task stop him, particularly when it was for others.
As many of you know, Peter had a wonderfully big voice, deep and resonant, expressive and full. Perhaps you didn't know he was trained as an opera singer and performed musical theatre. He especially loved singing while cooking—and, boy, was his cooking terrific!
He loved his family and that love included those at ECG. He could tell a story like no other. But above all, Peter cared. He cared about what you were going through. He cared about the suffering of people he didn't know. He cared about the world.
Peter wrote our first Speak Previews article, Communicating Hope. Recently, Peter talked about updating that article because of his concern about the current state of communication. Our hearts are heavy that he will not pen that revision himself, but he will continue to communicate hope—through all of you and all of us.
Since founding ECG, Peter personally trained tens of thousands of people. Each year he received notes; some from those he had trained the previous year, some he had trained 20 years prior. The messages, each of which Peter treasured, consistently included what a difference he had meant to their authors, that they were a better communicator because of him.
Hope will indeed continue to be communicated because of Peter. Like his voice, his heart was big, deep and resonant, expressive and full; we see that his hope, care, concern, and love will indeed continue to sound, will indeed continue to make the world a better place.
Still, we will miss Peter.